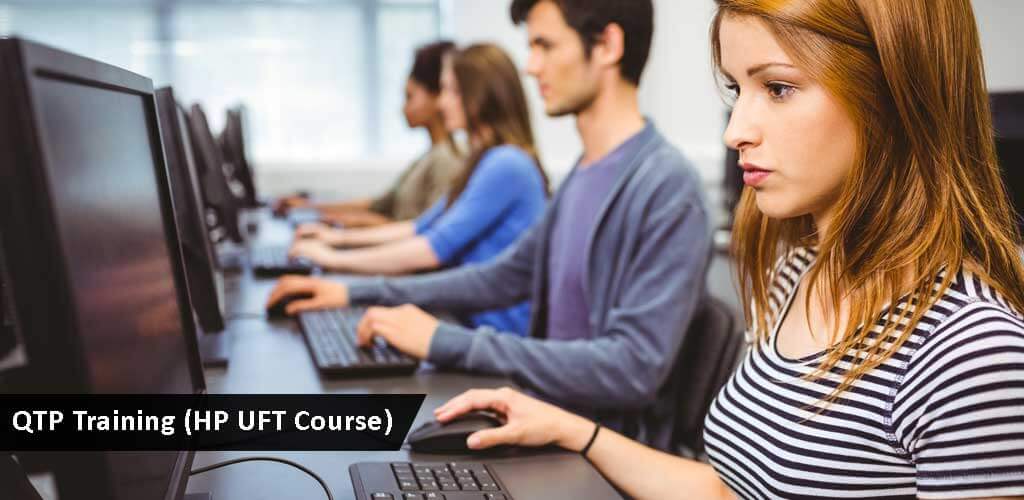 We offer practical oriented HP UFT Course with live examples and test scripts. Our QTP Program is designed to help both beginner's and experienced software professionals to learn and use QTP in real time environment. In QTP Course, Our certified & experienced trainer will help you understand the subject in a simple way.
Do you wish to stand out in the test automation community? Are you searching for a challenging HP QTP (now UFT) course? Your search has ended.
Automation is a highly technical subset of software testing quality assurance initiatives that demand high-level analytical and problem-solving abilities. It involves more than just knowledge of a programming language or a tool. It involves a whole different mode of thinking. It involves simultaneously thinking like a developer, tester, designer, or architect. A functional test automation tool is Quick Test Professional(QTP).
 HP UFT stands for HP Unified Functional Testing software or the Quick Test Professional (QTP), a product of Hewlett Packard (HP). This testing tool allows software testers to automate functional testing, thus creating automated test scripts for regression, functional testing, creating test data etc. QTP tool makes use of the VBScript scripting language to create the automation test scripts. The scripting engine does not have to be installed entirely because it is an existing element of the Windows OS.
 If you are looking for QTP Training, this is the right course for you! We also have a remote lab available 24×7 for you to practice and hone your skills in QTP.
 On the job support: If you need assistance with QTP scripting, debugging etc in your current project, we can provide assistance to resolve errors, rewrite scripts and get you moving ahead. Our experienced QTP professionals can log in remotely and get the script working in no time.
We deliver Online Advanced QTP Training:
QTP Training Course Syllabus
Why consider an HP UFT specialist career path in the IT industry?
HP UFT investigates how technology and services might assist individuals and groups in resolving issues and overcoming obstacles to achieve their capabilities, goals, and desires. To continually improve how our clients live and work, HP UFT combines fresh thinking and ideas to develop more straightforward, worthwhile, and reliable technological engagements.
Tests may be finished, run (as many as necessary), and debugged using QTP. It integrates with test management software to streamline the entire testing process. Additionally, it gives testers freedom in how it supports different automation frameworks, like keyword-driven, data-driven, or any other specialized framework.
Who is eligible for the QTP Training course?
QTP training is frequently a position that is independent of a particular platform. Candidates with non-IT abilities may enroll in the online QTP course, which might pave the way to a successful IT career.
The QTP testing on UFT training tools does not require any prior expertise. The training is open to anybody with a fundamental knowledge of computers. All you need is the motivation to work hard, an accuracy-focused mindset, and writing skills.
Why Acquire a Get Software Service to Fulfill your QTP Course?
Companies and new teams may receive onsite and online QTP Course training from Get Software Service. The key benefit, or record and playback function, is that a script doesn't need to be written down by hand. It supports nearly all of the popular technologies, including Web, Net, Java, Oracle applications, SAP, Siebel, Terminal Emulators (Unix, Mainframes), Powerbuilder, Visual Age, and Flex (by Adobe). It features an active screen capture that enables testers to detect things. It features a highly effective device authentication protocol. As a result, it enables script editing and enhancement. Hence training from Get Software Service you can experience Instructor-led, face-to-face live training. Test reporting is another feature of QTP that may be used for analysis. It features a built-in IDE. The upkeep is simple.
What will You accomplish after completion of the course?
You'll be able to access the working world after effectively completing the course.
In the QTP course, we'll provide you with hands-on project work training that will give you the abilities you need to successfully meet job-related issues. Our group discussions and mock interviews will boost your confidence.
Entrance For the start of their new careers, QTP testers need to be proficient in different UFT technologies. Current QTP testers can climb the corporate ladder and maintain their competitiveness in the IT industry.
Watch FREE QTP Tutorials
Introduction to UFT Tutorial
Create a Simple Test in UFT
QTP Tutorial - Introduction
QTP Training Tutorial – 2
FAQs
Which is the best institute for Online QTP Training in Canada?
Get Software Service is the best institute for online QTP training in Canada.
Who can take the QTP Online Course?
Candidates with non-IT abilities or IT people may enroll in the online QTP course, which might pave the way to a successful IT career.
Why should you Learn QTP Online?
A functional and regression testing tool is QTP. Regression testing is crucial since software updates shouldn't impair previously implemented features.
What are the advantages of the QTP Certification Training?
After completing our QTP Certification training, you might anticipate working in a greater capacity for a firm with a higher salary. Make your career glow with the QTP certification course.
Attend a Free 7 Days Software Testing Demo. Call Now +1 905 275 6446 for Details.